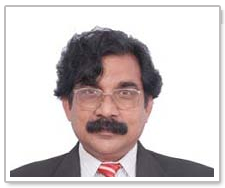 | | |
| --- | --- |
| Name: | MSR Sathyanarayana |
| Designation: | General Manager, Corporate Quality |

As General Manager, Corporate Quality, Sathyanarayana heads the Quality Development operations at Kavin and is responsible for quality policy, establishing and developing company-wide operational excellence; create continual improvement PDCA life-cycles for enhancements in process capabilities; drive implementation of effective Best Practices and HSSEQ Integrated Management Systems.
Sathyanarayana joined Kavin in 2010. Before this, he had worked with RKIMCS & KKECS Group of Institutions, Bangalore; Bharat Earth Movers LTD (BEML) Bangalore; Global Institution for World Class Excellence, Bangalore; Mazagon Dock Ltd, Mumbai; Hindustan Aeronautics Ltd (HAL) Bangalore.
He has over 29 years of rich experience in the areas of Project Planning & Execution in Oil & Gas Sector; Safety, Health, Environment & Quality Control activities; TQM, Lean six Sigma, Supply Chain Logistics, Value Engineering etc.
Sathyanarayana is the Chairman of Coimbatore Chapter of National Institution for Quality & Reliability (NIQR).